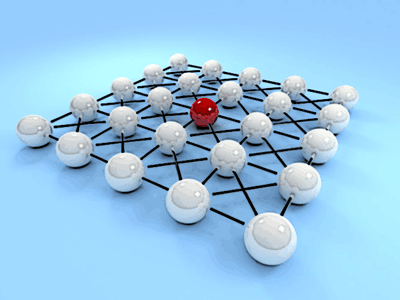 A field of view that grows with the network.
From enterprise headquarters to branch offices, from the network core to customer premises and mobile users, SQmediator provides a global view of service performance for every voice call, video session and data session.
End-to-end network performance visibility from a single web console
Supports both passive monitoring and active testing
Collects quality reports directly from a range of IP phones, probes and other devices
Accurate user QoE scores (MOS) for video, audio and voice
Signaling analysis - call registration, setup, and failure codes from SIP sessions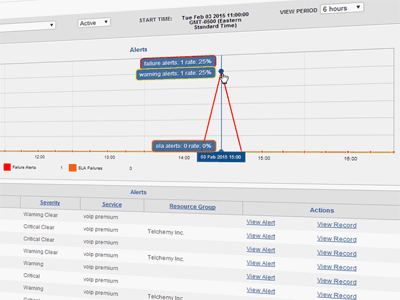 Head off trouble before it strikes.
Don't wait for frustrated users to complain about bad call quality, choppy video, slow page loading, unresponsive email or other problems. SQmediator's real-time alerts put you one step ahead, providing an early warning system for detecting and resolving service problems before users are affected.
Immediate dashboard alerts
External email alerts and SNMP traps
Configurable per-metric thresholds for a wide range of service metrics
Separate thresholds for internal, external and SLA alerts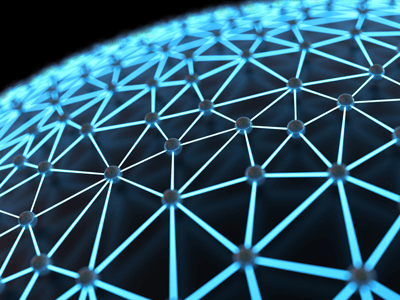 Proactive monitoring for active networks.
SQmediator's distributed active test framework provides end-to-end ability to quickly isolate and troubleshoot performance problems anywhere in the network.
Compact software test agents for Linux, Windows and Android
Place simulated VoIP or Videoconferencing test calls with a range of codecs and payloads
Get immediate feedback - QoE scores, SIP signaling data, granular performance metrics and diagnostics
Test and troubleshoot server performance - Web, Email, DNS, DHCP
Peer-to-peer tests provide quick network path analysis and problem diagnosis
Run tests on the fly, or on a schedule (e.g. for automated SLA monitoring)
Limitless potential for large-scale applications.
When it comes to network performance management, "one size fits all" isn't good enough. SQmediator easily scales to fit any application, from small business LANs to carrier class service provider networks.
Carrier-grade performance - manage up to millions of end users
Multitenant architecture - manage up to thousands of customers and sites with a single database
Automatically correlates data for customers, locations, and other specified resources
Scale up capacity by adding additional system components (Collectors & Reporters)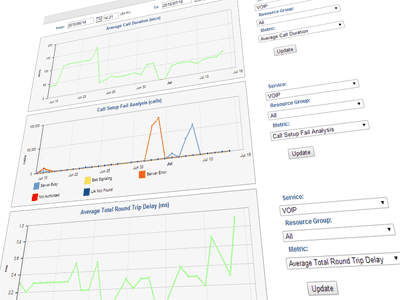 Long-term trend analysis, made simple.
SQmediator's extensive library of interactive charts make it easy to view and compare performance levels over time for a wide variety of service metrics. Get a global view, or zero in on specific customers or sites.
View performance trends over days, weeks, months
Detailed call statistics - volume, rate, duration, call outcome (e.g. success, busy, no answer)
Signaling analysis - delays/failures in call registration, setup and termination
Packet loss, jitter and delay measurements
Server availability and response times (Web, Email, DNS, DHCP)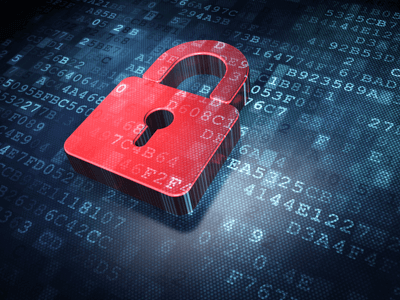 Keep sensitive data away from prying eyes.
SQmediator is highly robust and secure, engineered to resist security attacks and allow administrators to easily manage users and access to data.
Secure multi-user web interface
Designed to meet stringent US DoD security requirements
Hardened against a wide range of security attacks and exploits including SQL/XSS injection and brute force password attacks
Role-based security with separate Security Administrator role
Strong password rules - complexity, re-use, expiry and grace period
Group permissions restrict user access to both data and UI functions
New Features in SQmediator 3.5
Support for large numbers of customers and sites
Configure up to 15,000 aggregation groups with 10 levels of hierarchy. Easily assign users to specific resources to keep private data secure.
Improved record search
Quickly filter and retrieve records using a wide range of search parameters. Now supports partial phone number/ URI substring matches (prefix, suffix or both).
Flex button
Add a user-programmable button to any call record screen for direct integration with external applications, for example, to request a packet capture or submit a trouble ticket. SEE EXAMPLE
Extended Web Services API
Active test functions can now be performed by external applications - for example, automated tests driven by a provisioning system.
Export data in CSV format
Export search data directly from any search results screen for integration with Microsoft® Excel® or other applications.
Enhanced System Performance
Quicker UI response time and search execution time provide faster access to data.
The
SQmediator Symphony

Product Suite
| | Service Provider Edition | Small Service Provider Edition | Enterprise Edition | Business Edition | Small Business Edition |
| --- | --- | --- | --- | --- | --- |
| Passive Monitoring Option* | | | | | |
| Active Testing Option* | | | | | |
| Advanced Interactive Dashboards | | | | | |
| Integrated Performance Analytics | | | | | |
| Multi-server Installation | | | | | |
| Single-server Installation | | | | | |
| User-definable Thresholds & Alerts | | | | | |
| User-definable Aggregation Groups | | | | | |
| User-definable Services** | | | | | |
| SNMP Support | | | | | |
| Web Services API | | | Optional | | |
| Oracle and PostgreSQL Support | | | | | |
* Each SQmediator edition includes the option of passive monitoring or active testing. Support for passive + active is available at an additional cost.
** User-defined Services must be enabled using a license key.
Compatibility
SQmediator is compatible with a range of popular IP phones and VoIP gateways available from major equipment manufacturers.
Click one of the logos at right to download a brief Solution Guide (.pdf) describing how that company's products can be combined with SQmediator for integrated real-time voice quality monitoring in your network.
For information about SQmediator compatibility with other products, please contact us.
Frequently Asked Questions
Have a question that isn't listed here? Click here to submit it to us.
What is SQmediator?
SQmediator is a multi-user performance management system that supports passive quality monitoring and active testing for a variety of IP network services and applications including Voice over IP, IP videoconferencing, web, email, DHCP and DNS. In passive mode, it collects, analyzes and displays performance metrics sent by IP phones, probes and other media endpoints. In active mode, it uses distributed software or hardware test agents to generate simulated VoIP and video conferencing calls and to test network services and applications.
Do I need special hardware to run SQmediator?
No. SQmediator software runs on standard off-the-shelf Linux server hardware and isn't tied to any specific vendor platform. SQmediator's user interface can be accessed with a standard web browser.
What's included with SQmediator?
SQmediator has three main components: Reporter, Collector and Controller. They are software applications that can be deployed on separate servers or together on a single server, depending on the size and scope of your network.
What is the Reporter?
The SQmediator Reporter provides the web user interface, and optionally the web services API, for the SQmediator system. Its secure UI supports multiple concurrent users, and offers an extensive set of features including configurable per-metric service thresholds, data aggregation by customer and location, and real-time alerts via the dashboard, email and SNMP traps.
What is the Collector?
The SQmediator Collector collects quality reports sent by passive probes and RFC6035-capable endpoints including IP phones and gateways, and stores the data in the system database where it can be accessed by the Reporter. If multiple reports are received for the same call - for example, when both endpoints send an RFC6035 report, or the call is also monitored by a probe - the Collector automatically correlates them into a unified call record.
What is the Controller?
The Controller is a management application used to authenticate and configure active test agents, run tests, and collect and store test results in the system database. It runs invisibly as a background component, while the Reporter provides the user interface for configuring and running tests.
Does SQmediator come with a database?
SQmediator requires access to an Oracle or PostgreSQL database to store quality records and other system data. You'll need to download and set up the database yourself, but we provide setup scripts and configuration instructions to get the database ready for use with SQmediator.
Will SQmediator work with my equipment?
SQmediator collects quality reports from a range of IP phones and gateways sold by major business equipment manufacturers (see
Compatibility
for examples). If your phones aren't directly supported, don't worry - you can use
SQprobe
to monitor the quality of all VoIP calls, even from phones that don't generate RFC 6035 reports.
For questions about SQmediator compatibility with specific products, please
contact us.
What if I only need some features, like just passive monitoring or just VoIP?
No problem. SQmediator is modular software, so you only buy the features you need. Use SQmediator for passive monitoring, active testing or both - for any combination of Voice over IP, videoconferencing, network services and applications, and network data analysis.
If I want to add more features later, do I have to install new software?
In most cases, no. Many SQmediator features can be enabled on your system simply by applying a new license key.
What about future scalability?
SQmediator's multi-server versions are designed to grow with your network. With the Service Provider Edition or Enterprise Edition, you can add additional Reporters to support more concurrent users, and deploy additional Collectors as needed to handle increased traffic as call volume rises. For active testing, you can typically scale up simply by licensing and deploying more software test agents.
Questions? Call us today at
+1 866 TELCHEMY

or CLICK HERE to use our contact form.